Um das Wesentliche von Itamar Erez' Musik zu erfassen muß man sich auf eine musikalische Reise begeben, in der verschiedene Kulturen auf Harmonien treffen. Itamar Erez' Musik birgt eine Tiefe und Einfühlsamkeit, die die Zuhörer sehr berührt. Die Musik vereint die Feinheiten der orientalischen Musik, die Freiheit des Jazz' und das Feuer des Flamenco. Alles zusammen bringt einen einzigartigen Klang hervor!
To capture the essence of Itamar's music is to be taken on a journeywhere different cultures meet in harmony.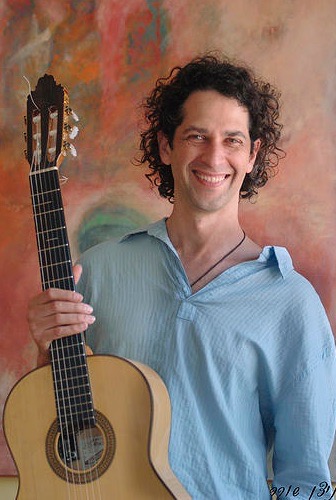 Imagine the music of Keith Jarrett, Anouar Brahem and Oregon all blend together as a new and authentic voice...
Itamar's music holds a depth and sensitivity that touches listeners deeply; It blends the delicateness of Middle Eastern music, the freedom found in Jazz and the passion of Flamenco, creating a unique sound, all of his own.
Recipient of the '2014 ACUM Prize for Special Achievement in Jazz', The lucrative 2014 Landau Prize, as well as the 'Israeli Prime Minister prize for Composers'- Itamar Erez is an internationally renowned composer and guitarist who has shared the stage throughout his career with such musicians as Omar Faruk Tekbilek, Tomatito, Avishai Cohen, Jean-Louis Matinier, Zohar Fresco, and others.
 In 2007 Itamar has joined the group of Sufi maestro Omar Faruk Tekbilek and is touring with him internationally. Itamar has released two CDs with his quartet 'The Adama Ensemble': "Desert Song" (2006) &"Hommage" (2010).
Itamar's recent CD is a a special duet collaboration called "New Dawn" (2013) with Yshai Afterman (percussion) and with Antonio Serrano (harmonica) as special guest.
Itamar has received over the years awards & grants from the Canada Council for the Arts, Israeli Culture Ministry, America- Israel foundation, Amsterdam International Jewish Music Festival and others.
In 2014/15 Itamar will be touring in Canada, USA, Germany, Holland, Austria and India, and is at the moment working on new material for his next CD due in 2015.
Itamar plays a unique guitar with quarter notes to imitate the sound of the Oud.
concert review:
Rezension aus:
Bernd Geisler; In: www.textfuertext.de. 20.03.2015
from: http://www.textfuertext.de/index.php/itamar-erez-musik-verbindet-kulturen/418/