Brian Gore, Gitarren-Poet aus San Francisco, ist einer der interessantesten und einflußreichsten Gitarristen der "nächsten Generation" unter den Fingerstyle-Gitarristen. Seine Kompositionen sind inspiriert von Legenden, Mythen und der modernen Literartur und Brian Gore bezeichnet sich selbst als musikalischer Romantiker. 
Brian's neues Projekt heißt "Santa Cruz In Song And Image" und ist eine Multi-Media Show, die als I-Book mit CD und DVD zu erwerben ist. Brian Gore wurde durch die Umgebung in Santa Cruz (Californien) inspiriert. Er schrieb eine Serie von Stücken, die auf einer Gitarre von dem einheimischen Gitarrenbauer Carter-Poulsen 
entstanden sind und von dem renommierten Grafiker Bill Russell in impressionistischen Bildern illustriert wurden.
Sein Gitarrenstil bietet ein bemerkenswertes Ton- und Dynamikspektrum, - Eigenschaften, die bei Stahlsaitengitarristen eher selten zu finden sind. Die melodischen und wohlklingenden Stücke basieren auf der offenen Stimmung, werden unterstützt durch perkussive Technik, so daß die poetische Qualität seiner Musik doch stets bewahrt wird. 
Brian gründete 1995 die "International Guitar Night" als Forum für die weltbesten Gitarristen/Komponisten um deren neusten Kompositionen und musikalischen Ideen mit dem Publikum zu teilen. Dies führte zu den hochgelobten Tourneen in den Staaten (Beginn 2000), Canada (Beginn 2006) und dem Vereinigten Königreich (Beginn 2007), CD's und einem Gitarrenlehrbuch (2005 erschienen).
"Brian Gore's strong, well developed melodies and intriguing chord sequences set him apart from the myriad of steel-string fingerstylists who compose in open tunings. His finely crafted poetic "songs without words" take the listener on a spellbinding emotional ride."
--Ron Forbes Roberts, Acoustic Guitar Magazine
"An artist of the highest caliber."
--Ray Toumey, the Boulder Chautauqua
San Francisco guitar poet Brian Gore is gaining a reputation as one of the most interesting and influential performers of "the next generation" in fingerstyle guitar. A musical romantic, his compositions draw inspiration from myth and modern literature. Hailed as having "...one of the most unique new acoustic guitar styles on the scene today (News and Review)," his lyrical, understated compositions integrate classical and percussive techniques that display what the Los Angeles Times calls "a characterful bounce and spaciousness all his own."
Brian's new project is called "Santa Cruz In Song And Image," a multi-media show that will be available as an enhanced iBook plus a CD and DVD. Inspired by a year living in the mountains outside Santa Cruz CA, Brian wrote a series of songs on an acoustic guitar made by local luthier Carter-Poulsen, and enlisted renowned illustrator Bill Russell to convey the songs in impressionistic images.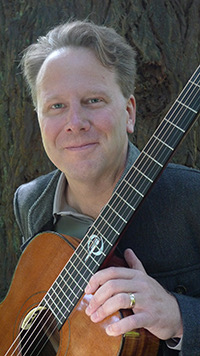 Gore's style of playing offers strikingly beautiful tone and dynamics-- qualities that are often hard to find in steel string players. His melodic, evocative songs rely heavily on the use of open tunings, extending the "stream of consciousness" style of guitar composing he grew up with in Northern California. "Music started out as a kind of therapy for me," says Gore. "Consequently, I am a very emotional player. Now, my style of playing has also become a well honed craft. I am very grateful I can share this with people."
His buoyant personality and odd sense of humor help add lightness to his shows. "By the time I'm done with a performance," explains Gore, "people really know the meaning of the term 'extroverted introvert'." While Gore integrates some of the flashier percussive techniques into his pieces, the poetic quality of his music is preserved. "Because my music is simple and somewhat rootsy, it's easy to relate to, which is something I'm thankful for. Also, it helps keep me grounded."
Gore's first CD, produced by Peppino D'Agostino, is called The Path of Least Resistance. His second CD, Legacy: Solo Guitar and Duets, is available on Germany's Acoustic Music Records Label. His music has been featured on NPR's nationally syndicated Echoes Radio, and many other local public radio programs.
Brian founded The International Guitar Night in 1995 as a forum for the world's finest guitarists/composers to play their latest original songs and share musical ideas with their peers in public concert. This has evolved into critically acclaimed annual tours in the US (starting in 2000), Canada (starting in 2006) and the UK (starting in 2007), a CD on Favored Nations Records released in 2004, a guitar instruction book published in 2005, and IGN releases on Warner Music Canada.
"Brian Gore's strong, well developed melodies and intriguing chord sequences set him apart from the myriad of steel-string fingerstylists who compose in open tunings. His finely crafted poetic "songs without words" take the listener on a spellbinding emotional ride."
--Ron Forbes Roberts, Acoustic Guitar Magazine
"An artist of the highest caliber."
--Ray Toumey, the Boulder Chautauqua
Homepage:  
http://guitarpoet.bandcamp.com/